Progressive screens – a leader in the motorized screen industry in both design and innovation – is an American-made, family-owned business. The company guarantees premier materials, workmanship, and production. They provide their customers with a wide range of affordable and stylish options for retractable motorized screens. Progressive Screens even offers a limited lifetime warranty on every motorized roll screen they produce. On top of that, each of their products is fully customizable to your unique needs and specifications. Their retractable motorized screens have both commercial and residential applications, making them suitable for any purpose.
Check out innovative, popular products like:
MagnaTrack
MagnaTrack overcomes all the major issues zipper systems encounter due to their inherent design. Internal neodymium magnets allow the mechanism to float free – meaning no mechanical fasteners. It even self-adjusts for unlevel surfaces. MagnaTrack technology is guaranteed to outperform and outlast most other zipper systems in the industry. MagnaTrack withstands an 75 mph wind rating and comes with a limited lifetime warranty.
The Progressive Screens commercial system has various applications. Suitable for indoor and outdoor solutions, the product is used in restaurants, hotels, casinos, resorts, special event areas, and wedding venues. The versatility of Progressive's Screens solidifies why it is one of the leaders in the industry. The system is designed to be resistant to outdoor weather and indoor conditions, which can be easily deployed for your convenience. Progressive Screen's products go through intense inspection to ensure your clientele and loved ones are safe under their technology; the system is designed to meet their stringent guidelines as a World Class Motorized Screen System. Every system is built under your preference and requirements, to ensure your experience is unspoiled by the weather.
Frame Colors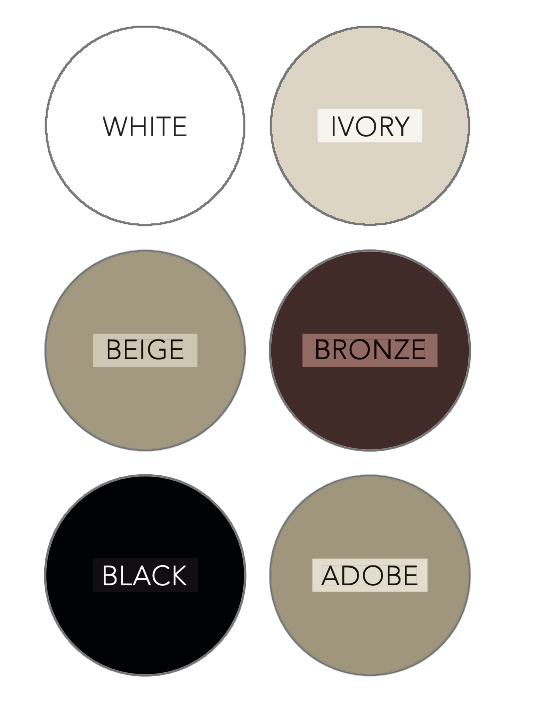 Fabrics